Confession: great singing drives me CRAZY. In a Good Way. Those blessed with gorgeous voices don't seem entirely human to me. I tremble in awe, feel shy around them. I want to pinch them and see if they flinch like us lower order mortals.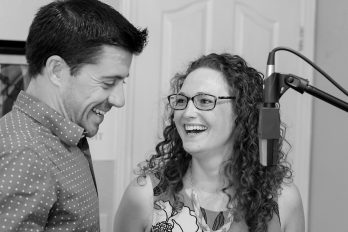 This sentiment is of course not particular to me. I think most, if not all humans are profoundly stirred by whatever singing they favor, whether death metal, gospel, the Hallelujah chorus, Chorus Line, Ella Fitzgerald, Prince, or Perry Como. So ancient and primal, great singing changes brain waves and heart rhythms, makes us vibrate, shakes us awake, energizes, galvanizes, purifies. (Clearly, I turn into a cliché machine when attempting to talk about this!) Poetry, duh, seems a medium for singing in language—one of poetry's allures that's made it riveting for me since I was a child.
So: imagine how thrilled this nerdy poet was when Steve Gunderson, actor/ singer/ composer/ arranger suggested collaborating on a musical play. Which would mean I'd get to write lyrics with someone I think is a real musical artist. Which would also mean I'd have a hand in creating poetry set to music: combining two of, what are in my world the greatest available human pleasures. That adventure underway, further imagine my excitement when I learned that I could sit in on a short recording session to make a "demo" of a song Steve and I are working on. Crammed into a small room with Steve, two amazing singers: Kelsey Venter and Bryan Banville, and sound engineer extraordinaire Justin Gray, I could sit, not unlike the proverbial fly on the wall, (minus the sticky feet) and not only hear the singers from just a few feet away, but see firsthand how a demo is made. This happened Tuesday afternoon.
Listen to excerpt from Vienna 1913 here: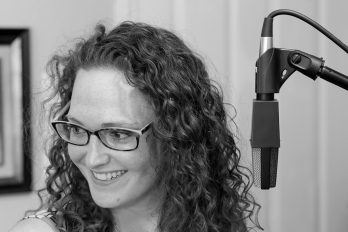 It was awesome. Not having any musical training, I do not speak the language of these beings who are conversant musicians. But like any stranger in a strange land, I picked up a few phrases during the one-hour session. Can somebody pluck me_________ ? (Fill in the blank) meant "Can somebody play the notes I need to sing in that passage on the keyboard?" Here was this young woman standing at a microphone, in jeans and salmon colored sandals, holding a to-go coffee, and inside her is this voice, like honey and amber and the sun: big and sweet and golden and rich. "Oh, I know that was too loud, I sing for the theatre!" she said, and later, "I find if I act it, it helps me get the notes right." (Singers out there…is this true for you, too?) When Bryan came in, again…here's a dude wearing shorts, looking like a normal being, and he steps in front of the microphone, and this this sound comes right out of him. Strong, clear, lucid, moving: a force. He doesn't have to strain or contort himself to produce this, or so it seemed. How are some individuals born with this beauty and power resident in them that they can just open their mouths and release? I guess it's like other gifts: some can run like the wind, split an atom, emit or erupt into some special physical or mental eloquence that makes the rest of us gasp.
Steve coached the singers with humor and quick efficiency. When someone made a mistake, instead of "you sang the wrong notes!" he laughed, "so you know you just made that up?"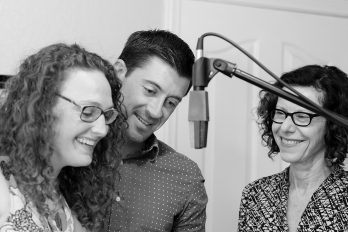 It all happened FAST…bouncing back and forth between the singers' recorded voices and live singing, Justin key stroking madly, clickty, click, all three of them speaking fluent musician:
can you sing that with more opinion/do you want me to sustain those full notes/once the cymbal crash happens I'm good/I cut off too soon—I got panicked! /I think the "thir" of "thirteen" could be a little more definitive/in your land, that's measure ten/as if this melody isn't weird enough, then he switches octaves to keep him out of the basement/can you spit that out a little more?
Just when I felt I might be getting accustomed to these creatures' rapid-fire code switching between song, speech, keyboard and playback, it was done. Studio time is money. Two days later, my head, in the good way, is still spinning.
A.G.